About the Boat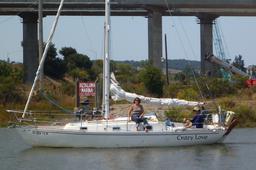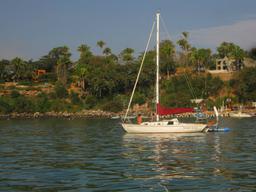 Crazy Love is a Canadian built 1984 JJ Taylor 26, better known as a Contessa 26. Carolyn and I bought her in October 2011 in Dana Point, CA for about $12,000.
More information about the JJ Taylor/Contessa 26 can be found at bluewaterboats.org
Work we've done on the boat
Standing rigging replaced May 2013 by Chris Catterton of CC Rigging
Fabricated and installed new chainplates - April 2013
Replaced all in-mast electrical wiring - April 2013
Installed LunaSea LED Masthead Tricolor/Anchor/Strobe - May 2013
Installed LunaSea LED spreader lights - May 2013
Replaced masthead VHF antenna and all coax cable - April 2013
Fitted a WindPilot Pacific Light Windvane - November 2013
Added a Victron 602S battery monitor - October 2013
Replaced all electrical wiring - May/November 2013
Replaced original electrical panel with a modern one - November 2013
Installed two 50 watt solar panels with controller - October 2013
Replaced both Group 24 wet cell batteries with deep cycle maintenance free models - October 2013
LunaSea LED interior lights installed April 2013
Lifelines replaced with 3/16" Dyneema - July 2013
Bottom paint by Shelter Island Boat Yard - May 2013
Cutlass bearing replaced by Morton Marine - May 2013
New main sheet, jib sheets, halyards, rope clutches - May 2013
Added tack line for spinnaker - May 2013
Added spinnaker pole with mast track/chock for vertical storage - May 2013
Put the name on the boat - May 2013
Replaced tape deck with Sony DSX-MS60 Radio/MP3 player - May 2013
Replaced PolyPlanar speakers - October 2013
Cleaned water tank - April 2013
Rebuilt the Jabsco head - November 2013
Added Sony SSB receiver - November 2013
Installed lee cloths - January 2014
Work we plan to do on the boat
Replace the inflatable dink with a more durable tender
New sails - both main and jib have limited life remaining
Address deck hardware leaks - this is an ongoing project.
The nonskid is wicked hot in the tropical sun, maybe paint it a lighter color?
Purely cosmetic - The deck is showing its age, maybe paint it?