Savusavu to Vuda Pt Marina
Posted 2019-02-12
Work in Progress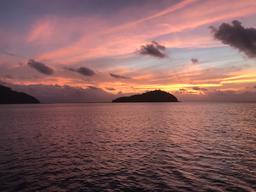 Thursday, Nov 1
Pulled out of marina at 6 Ferry was docking Single reef main, 105 jib
Close reach, close hauled for 20nm to pass Namena barrier reef, bigger waves early, flattening further from Vanua Levu, moving we'll upwind, surprised. Minimal pounding.
Then beam reach 20+nm to Makogai Motor sail 5nm to windward, slowly into anchorage Never more than 15kts all day Superb day sailing Hand steered all the way, electric autopilot would be nice
Chips & salsa for dinner with local rum and mango. The pineapple juice had fermented in my mug
To bed early, sleep came easy
Friday, Nov 2
Woken by Spot of rain at 5a. Stopped minutes later.
Plan is 17nm to next anchorage (Naigani), then just a few more nm to Viti Levu. Forecast is for 20-25kt winds Later today and weekend so we want to get into reef protected water quickly to avoid big seas.
Yup, big winds and seas as expected. Did the 17nm in just a few hours - I hand steered the whole way. Surfing down waves at 7+ kts. Very wet, but no rain. Argued about whether we'd be able to get into anchorage and argued about other passages into reefs at Viti Levu. Arrived and anchored in Naigani at 11:30a.
Had a nice swim at 2p after lunch and a nap. Big gusts in anchorage, but no waves, well protected by reefs. 180 degree wind shifts keep the boat moving all over the place. Good holding in sand, almost no coral heads except close in to beach. verified anchor dug in well.
Killed bottle of Bounty spiced rum and then a bottle of wine. Bed was very wet as expected, but sleep came easily anyway.
Saturday, November 3rd
Up at 6a. iPad charged overnight. If it is broken or discharged we can't go, right? We don't have the waypoints in the Garmin and the reefs aren't on the Garmin charts anyway. Hoping to get to Viti Levu Bay today. 30nm. Clear skies, sun is out, big gusts still in anchorage.
Fuck! Hit a reef! Maybe going 3-4kts under double reefed main and engine. Got off by reversing full when waves picked us up. Steering doesn't seem to be damaged. Not taking on water, we'll see what the damage is when we haul out next week.
8 miles to get inside reef. Then smoother sailing. Clouds disappeared as the day went on. Really fast passage.
Decided mid-day to get to Rakiraki today. Anchored by 3pm. Navolau Passage through extensive reef getting into anchorage. Lotsa wind (maybe 30?) in the pass but minimal waves. Big gusts in the anchorage but then totally calm. Odd.
Depth sounder not working for anything deeper than 20ft. Fuck!
Sunday, Nov 4th
Daylight savings time. Sun rises, sets later. Sunset after 7p today.
About 30nm. Lighter winds, fast, flat sailing, all downwind. Anchored a bit before we got to Ba at 3:30p off some beach with a little resort in about 13ft. Depth sounder started working after we anchored, thanks a lot.
Pancakes for dinner with 2 bottles of wine. Oar and Dmb on the stereo. Fireworks in the distance after sunset. Glow of Fires on the horizon at sunset. Maybe burning the sugar cane fields?
Monday, Nov 5th
Plan is to get to Lautoka today. Forecast is for 3-5kts from the SE. might be motoring a bit. 25nm to get there.
Motor sailed all the way to Lautoka. Arrived and anchored at 3:30. Assembled dink and went for dinner/drinks. Lotsa people in the big city. Back on boat before dark.
Bottle of wine, YouTube music. Fireworks after dark.
Plan is to find bus station to Vuda tomorrow.