American Samoa to Tonga: Finally a good passage
Posted 2018-10-17
19 Aug 2018 - 23 Aug 2018
4.5 days, 350 nautical miles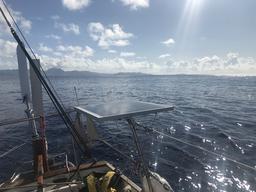 Perhaps it was the prospect of only a 5 day sail, perhaps we were blessed with an excellent weather window, perhaps it was comforting to have a buddy boat in Kuan Yin, or maybe just maybe we have our sea legs back!
We checked out on a Friday thinking we would head out on Saturday afternoon. There was still a bit to do on Saturday after one last stop at the Chinese market in town, good byes to our friends, call the family, secure Albert, reorganize the v-berth and secure everything after 4 weeks at anchor. In the midst of this it began to rain... hard and steady. Sunday at first light seemed a much better option.
We gave a shout out on the VHF to the port captain and pulled up anchor around 7 am, Aug 19. Motor sailed oh so slowly out of Pago Pago (did I mention 4 weeks at anchor, no bottom or prop cleaning?). Waved to Pam as we passed Pied a Mer and heard from Kuan Yin they would be right behind. As we exited the harbor we passed a rather large shipping vessel waiting for the pilot, turned the engine off, set the sails and we were off in light winds and clear skies.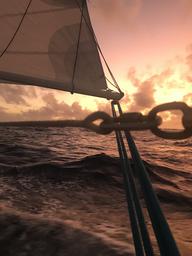 We had a daily check in with Kuan Yin. Lucky for us they had access to up to date weather. Although they left ahead of us they quickly pulled ahead and then stayed about 10-20 miles ahead. They also seemed to run into a few more smaller squalls than us.
Winds never more than 15 knots, waves never much higher than 1 meter, decks were dry and even more importantly the crew stayed dry.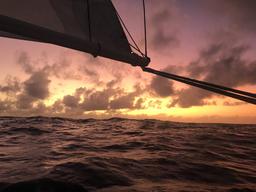 Land Ho on Day 4! Arrived mid morning Faihava Passage on Aug 23. We lost a day again as Tonga is one day ahead.
Motored as fast as possible to get to customs before they closed at 4 pm. A quick visit with quarantine on a very scary customs dock and a promise to return next day with all our paperwork we were free to find mooring. The harbor has a large number of mooring balls but a quick call to Moorings and Beluga Diving said none were free. Fortunately Kuan Yin spotted one near them, unfortunately we didn't know if it belonged to anyone as it was not marked. Our luck held when a yellow Beluga ball came open just feet away. $15 TOP per night and worry free of anchor drag or worse yet someone anchoring on top of us. We celebrated with dinner out and a cold local beer or 3.
No rashes, no illnesses, in fact rather rested and ready to take on Neiafu and the island group of Vava'u.