Sauerkraut...on a boat
Posted 2014-07-30
Cabbage is one of those veggies that stores really well without refrigerating so I'm always looking for ways to cook with it on the boat. I love sauerkraut, it's made from cabbage...and I found this website.
I thought, why couldn't we do that.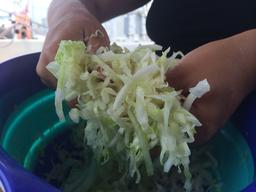 I first tried it on our Pacific passage and it turned out great. Just mix well with salt and wait a few days, could it really be that easy?
A few concessions on the boat. Everything was as clean as I could get it on salt water, we didn't use fresh water for anything but drinking and occasionally cooking. Second (and ironically), I didn't have sea salt, just plain old Mexican table salt. Thirdly, no cheese cloth. A Blue paper shop towel seemed to do the trick. I bought this jar in Mexico before we left. It was ready in 3 days, better at 5 and gone by 7. It was great on hot dogs, sandwiches, potatoes, and on its own.
Sauerkraut
I highly suggest using the link above, this is how I did it on the boat
1/2 head cabbage
about 1 tblsp salt
Slice cabbage as thin as you can and put in a large bowl. Rub in salt. Get both your hands into it and really work it in, until it has expressed quite a bit of liquid. Put it in a jar, pressing it down so its all covered in liquid. Cover with a clean paper blue shop towel (or paper towel), secure in a good spot where it won't tip over too much and wait 3 days.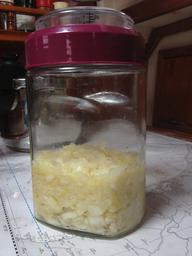 Yum!