B Dock Party at the Ala Wai
Posted 2014-07-29
As mentioned in our Honolulu post, the folks on B dock were very nice to include us in their progressive potluck. This recipe is one we've used for years in my family. Always a winner!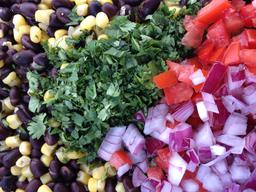 Black Bean Salsa
2 cans black beans
1 can sweet corn
1/2 red onion
2 tomatoes
small bunch, cilantro
2 avocados
1 or 2 limes
2-4 tblsp red wine vinegar
2 tblsp olive oil
salt and pepper
Drain and rinse the beans and corn. Chop the onion, tomatoes, and cilantro. Combine.
In separate bowl juice the limes, mix in the oil and vinegar. Salt and pepper to taste. Pour over the salsa and mix.
Just prior to serving chop the avocados and toss in.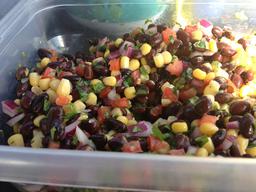 This is great served with chips or without. I've heated leftovers for black bean burritos or its delicious served over grilled fish.