Scalloped Potatoes and Ham
Posted 2014-02-27
After weeks of street tacos, burritos, restaurant enchiladas and coastal Mexico's version of pizza I was in the mood for a taste from home. I went to one of my comfort food favorites, scalloped potatoes and ham. This is my pressure cooker version.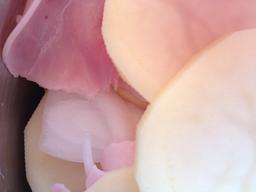 Scalloped Potatoes and Ham
Potatoes, peeled and sliced ... about 4
Ham (in this case deli sliced ham as that is what we had), a couple slices
1 Onion, sliced then coarsely chopped
2 tblsp Butter
2 tblsp Flour
1-2 cups Milk
Cheese, a couple slices of manchego and American
Salt and pepper
Layer the sliced potatoes, ham, and onion in the pressure cooker. (1 layer potatoes, then ham, then onion, and then a 2nd layer potatoes, etc).
Cover with water. Bring to pressure 15 psi for 4 minutes. Let the pot naturally release and pour off excess water.
In a separate pan melt the butter. Stir in the flour a little at a time making a roux. Then slowly add the milk making a sauce. Bring to boil till it starts to thicken then lower heat. Add cheese until melted and season with salt and pepper.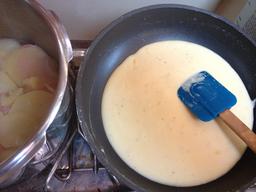 Pour sauce over the potatoes, onion, and ham.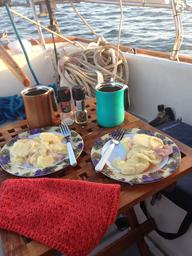 Delicious!