Banderas Bay, Take 2
Posted 2014-02-21
I cannot believe we checked into the marina in La Cruz (full name La Cruz de Huanacaxtle) on Feb 4. Time sure flies when you're lazing around a marina, catching the nightly music shows (Luna Rumba is our favorite), and in general spending time with other cruisers. The lounge has WIFI and air conditioning. There is even a pool. Did I mention showers...they have those as well.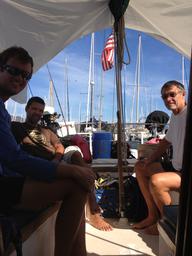 We did spend the first week debating on building a hard dinghy replacement for our old blue Achilles, Peeps. Space was not a problem. Labor and tools even less of a problem thanks to our dear friends on the S/V Lilo. We even bought plans and had them shipped to my sister in the cold midwest for scanning and forwarding on to Mexico (the mail system here is slow at best). Unfortunately things like epoxy and fiberglass tape are not only tough to come by but expensive as well. It would have been possible but in the end we decided not to take on the project. Looks like Peeps gets a few more patches, until we get to Hawaii at least.
Yes I said Hawaii. For those of you keeping track of Our Plan, we have decided to make the puddle jump to Hilo from Puerto Vallarta sometime mid-April once the weather window is favorable. We have begun our preparations for the 2900 nm or so trip.
Day trip to Sayulita, Feb 7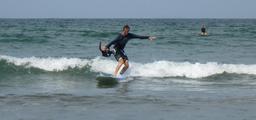 The promised land for beginner surfers, Sayulita. Some folks from the S/V Lilo and Dave expressed interest in obtaining some surf lessons while in Mexico. A day trip to Sayulita to Patricia's Tours was in order. Bryan, Meira, Ryan, and Dave decided to take a lesson while Bethany, Hannah and I debated renting a SUP (stand up paddle board). Once I saw the breaking waves I decided I was happy to sit under the umbrella at the beach and be a spectator (Hannah and Bethany agreed).
They set Dave up with the longest board they could find. Unfortunately it was meant for a full wet suit. After 2 hours of on and off that board in the water it definitely left some abrasions on his hands and knees. He made it up a few times. Its tougher than it looks and I think it looks pretty tough.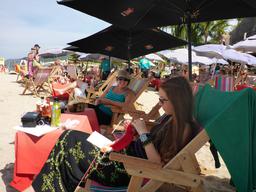 We had all kinds of good beach vendors stop by while they were getting destroyed ... I mean learning to surf. Donuts (you can even get a chocolate one filled 4:20 style, not for kids Hannah), coco frios (cold coconuts with a straw for sipping the milk), candy vendors, and some local art. I can get behind these kind of vendors. They also had the usual jewelry, wraps, hammocks, etc, etc.
Sayulita the town is a bit more hopping than La Cruz with lots of shops, restaurants, beach palapas. We look forward to returning with our sisters end of this month to further explore.