Boat Work: Everything Else
Posted 2013-11-17
We're planning to head South tomorrow, so the boat work is coming to a close. In fact I call it complete. I believe we've checked most everything off Dave's list. We've mounted solar panels, added a battery monitor, new batteries, and cleaned every surface on the boat. Most recently and the last big upgrade, we installed the WindPilot Pacific Light.
Benchmark Custom Welding did an excellent job on the design, build, and install for this beautiful work of German engineering.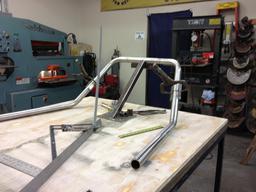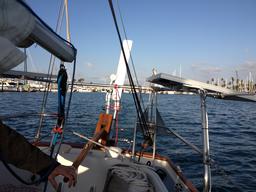 We haven't had a chance to see it in action, but there will be plenty of miles to get it dialed in on our way to Cabo.
Some other work we've done in the last few weeks: dinghy repairs, head repairs and essentially "put the Crazy Love back together again."
The dinghy, we call Peeps, is a beautiful 1984 Achilles in a bright blue color. Its a good dinghy... just not good enough for the Dinghy Doctor to repair him for the hours and cost it would take. So green slime (yes the tire repair goo) worked its magic. This cost friendly quick fix seems to have taken care of the few slow leaks we had. Maybe we can now row ashore without carrying our handy hand air pump.
The head pump was a bit leaky so we decided to rebuild it rather than install an entire new head. That was a lovely job! I think we got most the pieces back together and in the end spent the same amount as we would have on a new one (figures!).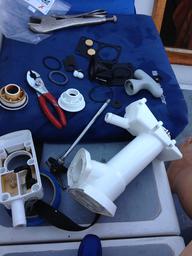 We got our sails and boom back from their various repairs and installed them back on the boat.
It seems she is a sailboat again and on Thursday afternoon, with our friend Kevin as crew we made sure she (more likely us) could still sail.
We're ready for Mexico and its promise of a Corona Christmas!