Chowder!
Posted 2013-08-11
We made it under the Golden Gate Bridge and what better way to celebrate than with clam chowder and sour dough?
I can't believe I've never made this soup before. It turned out delicious and thanks to Mollie Stone's Market (a Sausalito local grocer) the bread met all of Dave's expectations for San Francisco (in the bread category anyway).
Clam Chowder - New England Style slightly adapted from Michael Greenwald's book
1 can clams (chopped in juice)
4 pieces bacon (chopped)
1/2 onion (or 1 small) (chopped)
2 Potatoes (peeled and cubed)
2 Carrots (chopped)
2 cups water
Italian spice mix*
Ground pepper
1 cup cream
1 cup milk
2 tablespoons flour
Sauté bacon and onion until onion is soft. Drain any excess fat.
Add potatoes,carrots, clams and their juice then add water till all is covered. Add in a couple shakes Italian spice blend. Bring to boil and let simmer for 10 minutes until potatoes and carrots are cooked.
In a separate bowl mix cream, milk, and flour (ensuring no flour lumps). Add mixture to pot and heat until a simmer. Do not boil.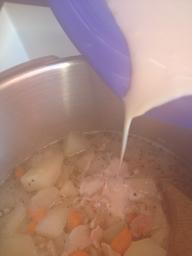 Serve with sour dough and a nice stout. Dave chose the organic devout stout by Santa Cruz Mountain Brewing.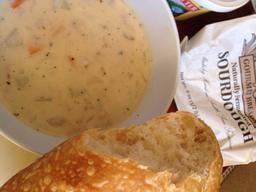 I used canned clams as that is the easiest :-). You can of course use any number of fish or shellfish replacements here.. fresh or canned.
I had planned to use powdered milk and had found a can of cream. I really doubt I'll find this again but it was on the shelves of a local grocery place in Half Moon Bay and worked really well.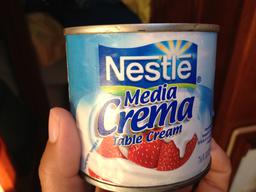 Since we were so close to the grocery in Sausalito and Dave was craving real milk with his pancakes (yep Dave is the pancake expert on the boat) I actually had and used 2% milk that had been on ice less than 24 hours.
The flour I have on board is self rising flour. It still seems to work ok as a thickener.
I used the pressure cooker as a pot and didn't bring anything up to pressure but did use the lid to bring things to a boil a little faster. The recipe called for a bay leaf, but in its place I used my mix of Italian spices. It really turned out delicious and the excess bacon was a hit the next morning at breakfast too.
In the cold and foggy weather there really isn't much better for dinner!
*Italian Spice Mix
2 Basil
2 Oregano
1 Rosemary
1 Thyme
1/4 Sage
1/4 Marjoram
1/2 Coriander