Ventura to Santa Barbara
Posted 2013-07-02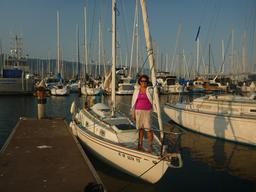 Yesterday Crazy Love left Ventura Isle Marina in Ventura Harbor after an 18 hour stay. We headed for Santa Barbara - 22 miles distant - in 10 knot South winds and were doing 5+ knots by 10:30am. After making solid progress under spinnaker, the winds died on us. That made me sad. We flipped on the one cylinder Yanmar and motored toward Santa Barbara at four knots.
We pulled into the beautiful Harbor at 6pm. Carolyn went to the Harbor Police office to check us in and I watched the commercial fisherman unload the day's catch at Navy Pier. When Carolyn returned, I got the good news - they had a slip for us and the fees are only $0.90 per foot per day. That made me happy. Carolyn paid for 8 days, so we will be here until at least next Tuesday.
More good news - the Fourth of July Fireworks in Santa Barbara are launched from the beach on the other side of the marina, so our boat will be the perfect place to view the festivities. Does anyone want to join us Thursday for fireworks? We will supply the beverages.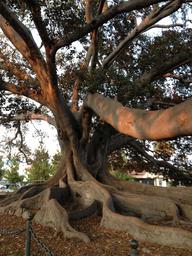 After we got settled in our slip, we went for a walk. During our walk we came across this giant tree. Turns out it is something of an attraction. It is the Moreton Bay Fig Tree. It is 120 years old and 38 feet in circumference.
While we are in Santa Barbara, we have several activities planned. For boat work, we need to replace a lifeline and I want to start installing the battery monitor. For more recreational activities, we are planning to go hiking, have a beach day and a nice dinner out. My parents are coming on Sunday, so we hope to do a little sightseeing while they are in town. Other than that we'll take it as it comes.
Hope all is well with everyone. Carolyn and I are having a blast.