Laundry Day
Posted 2013-06-24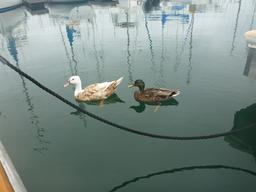 For our second and final full day in Redondo Beach we have a bunch of chores that need to be done. The big ones are laundry and grocery shopping. Most marinas have coin laundry facilities, but Port Royal Marina doesn't have it. Carolyn looked up coin laundry places on Yelp and the closest one she found was a mile and a half away in Hermosa Beach. Fortunately, we ran into the 2nd Street Laundry half a mile from the marina. Laundry is a breeze when you can use three washers and three dryers at the same time - it made the whole experience less painful.
While we waited on the laundry we headed two doors down to the Mickey's Italian Deli where I had a 7" Egg, Cheese, and Bacon sandwich with onions, pepperoncinis, and lettuce. The default bread was italian and it was fantastic. Perfectly fresh and perfectly toasted. It was enough food to satisfy both Carolyn and I for breakfast.
After laundry it was back to the boat to put away laundry and do some cleaning. While Carolyn was organizing some bags in the v-berth (the front of the interior of the boat) she accidentally pulled the "Pull to Inflate" tab on one of our life jackets. It was effective!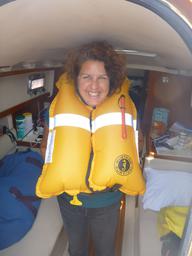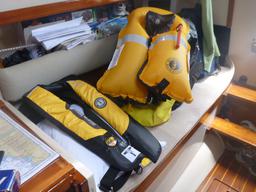 It turns out the re-arming kit for those jackets is $78 at West Marine. Definitely an expensive mistake. We will be sure to store the life jackets more securely in the future. Oops.
Tonight is our last night in Redondo Beach. Tomorrow we head to Paradise Cove. The forecast is for mild West winds through the week, so we might try to make it to Santa Barbara for 4th of July. When we make it to Santa Barbara we plan to stay there for a week. Anyone want to join us for a weekend and do some wine/beer tasting?