Memorial Day Shakedown Sail
Posted 2013-05-26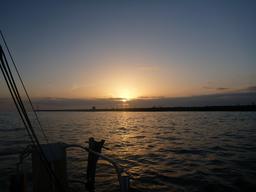 Before we give up our slip at Harbor Island West at the end of the month, Dave and I decided to do a test sail. We wanted to ensure the rig and the new cutlass bearing are sail worthy. After a bon voyage happy hour and an Adios to all our In Motion friends, we sailed Saturday afternoon to Mariner's Basin in Mission Bay.
Everything works as expected. Dave installed a new stereo today and I got some suntan - or maybe a sunburn - watching the activities in Mission Bay.
We plan to sail back to Harbor Island tomorrow, complete our provisioning, organizing, and get rid of Dave's car by the 31st. We hope to leave San Diego behind on Friday not returning until the fall.
Happy Memorial Day!